My New Year's fashion resolution:
be more creative in my combinations!
Vests are a great way to do this: they're comfortable for layering in all seasons, and a more subtle means of adding contrasting color or texture than a skirt or jacket.
Sleeveless layers -- cool for summer
Vkoo cashmere vest
Black leather in summer....
source
Forever 21 faux leather moto vest
source
Speaking of leather vests... they're showing in all colors. Love it!
The classic denim vest in summer...
source
source
and winter.
source
The eternally cozy sweater vest, without being boring...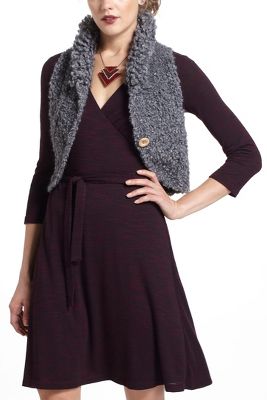 Anthropologie
I'm not into fur, even faux, but I really like this black on black combination.
and white on white.
Remember subtle? The vest is a perfect way to add some sparkle...
Each of the following photos are from Blair Eadie's gorgeous fashion blog, Atlantic-Pacific. I love how she rocks thrown-together!
I would normally not have looked twice at this crazy purple faux fur from Forever 21, but I love it combined with the drab denim and the glam shoes!
Love the combination of this rough and ready vest with the floaty lace.
Well, I was so inspired by writing this post that I ran off to the mall and bought myself a gray faux leather moto vest!